Strategic partners
FRIENDS OF THE IDF (FIDF) IN THE USA
Established by Holocaust survivors who emigrated to America, this non-profit organization has been operating in the USA since 1981. The FIDF's goal is to ensure the well-being of Israel's male and female soldiers, their families, and militarily bereaved families.
The organization runs 15 branches throughout the USA, focusing on several main areas which support IDF soldiers and contribute to shaping Israeli society. Projects include the scholarships program, IMPACT, education and cultural activities for soldiers, financial assistance to soldiers from disadvantaged backgrounds, exceptional attention to lone soldiers, service, and support for bereaved families, support for injured soldiers, funding of recreation weeks for combat units, and renovating and establishing installations to enhance soldiers' wellbeing.
To the organization's website
THE INTERNATIONAL FELLOWSHIP OF CHRISTIANS AND JEWS – Keren Layedidut
The Fellowship was established in 1983 in the USA by Rabbi Yehiel Eckstein, who has meanwhile passed away. Since its offices first opened in Israel in 2000 it has become the largest social fund operating in Israel.
The fund's donor base comprises some 1.4 million Christians worldwide who care about Israel. As such, the organization's objectives are to strengthen and deepen the ties between Christians and Jews. The Fellowship also seeks to expand Christian support in Israel overall as a country, and reinforce Israel's economic and political interests. The Fellowship operates in conjunction with various government offices in Israel, local authorities, social organizations, Jewish communities, and other sectors. The Fellowship is consistently on Israel's side irrespective of the ethnicity or religion to which an Israeli belongs.
The Fellowship's resources recruitment system is based in the USA, with its Israeli HQ located in Jerusalem. In 2013 the Fellowship transferred more than a quarter billion shekels towards benefitting the State of Israel and the Jewish people.
Areas of Fellowship activities
The elderly. Poverty. Children at risk. Direct and indirect support to tens of thousands of Israelis living beneath the poverty line, with emphasis on childless elderly and children in welfare dormitories.
The Fellowship works in conjunction with the social services departments in local government, operating "Fellowship Funds" that enable fast tracked monetary assistance to Israelis applying to the social services departments.
Diaspora Jewry, immigration (Aliya) and absorption. The Fellowship assists in bringing immigrants from disadvantaged countries and works to help them become socially and professionally integrated and employed in Israel. It also supports Jews in need in former USSR countries.
Israel home front. The Fellowship transfers resources for physical protection of the home front and is deeply involved in the wellbeing of IDF soldiers.
The Fellowship's work methods are diverse and constantly updated, and include: directly operating core programs via dozens of permanent workers operating throughout Israel, authorizing hundreds of annual grants to organizations and associations in a wide range of activities, and special operations run with the participation of thousands of volunteers to celebrate various State events and festivals of all religions.
Rabbi Eckstein sought, at the time, to lead a rectification of past misdeeds,  bring about change in society, and inculcate values into Israel. The Fellowship's goal is to serve as a reliable but temporary forum for addressing issues that Israeli society must face in the short term while Israel's government continues to find ways of resolving them in the long term.
To the organization's website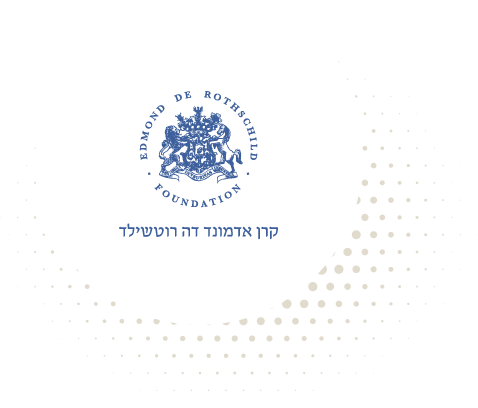 EDMOND DE ROTHSCHILD FOUNDATION
The Edmond de Rothschild Foundation (Israel) works to create an Israeli society that is just, cohesive and cooperative; and drives deep processes of social change for the purpose of promoting excellence, diversity and leadership through higher education. Furthering its 130 year old philanthropic heritage, the foundation continues to realize the long term commitment by the Rothschild family which promoted the pioneering spirit in Israel by investing in contemporary agents of change and advancing new pioneering ventures.
Operating under the global auspices of the Edmond de Rothschild Foundation, dozens of innovative projects are initiated each year throughout Israel. These projects seek to reduce social disparities and nurture young leadership.
The foundation's activities aim to realize higher education among as many populations within Israel as possible, promote innovative academic research, advance and impact social issues through the arts, invest in breakthrough socio-economic models, and nurture young leadership and commitment. As such the foundation enriches the lives of tens of thousands of people and shapes the coming pioneer generations and innovators in Israel.
The Rothschild Foundation is committed to, and operates out of a sense of responsibility towards, Israel's pioneering spirit and aims to link, promote and encourage the diverse sectors which comprise Israeli society.
The foundation's objective is to promote values of equality, diversity, excellence and leadership. To this end the fund activates dozens of programs in five spheres: realizing higher education, achieving academic excellence, the arts, Impact entrepreneurship, and leadership.
The Rothschild Foundation and Yahad – United for Israel's Soldiers have been cooperating since 2021 to grant "Uniform to University" academic degree scholarships to discharged soldiers as part of the scholarships program run by the IDF and the Ministry of Defense.
As of the academic year 5781, corresponding to 2020-21, the foundation has supported thousands of "Uniform to University" scholarship holders. In the coming year, 5781 (2021-22), scholarship grantees will carry out volunteer community activities which will be coordinated and supervised by the Rothschild Foundation partnerships.
To the organization's website